A Fine Pointed Belonging. Dayna Danger and Jeneen Frei Njootli. Modern Fuel Artist-Run Centre. Kingston ON. March 8th to April 20th 2019.
A Fine Pointed Belonging is a collaborative exhibition by contemporary artists Jeneen Frei Njootli (Vuntut Gwitchin Nation) and Dayna Danger (Métis/Saulteaux/Polish) curated by Genevieve Flavelle. Drawing on Danger and Njootli's multifaceted practices and friendship, the exhibition explores the negotiation of consensual representation and what is given to be seen. Through collaborative performance, photography, and sculpture-based works, the artists invite viewers to consider what consensual representation can look like for their bodies, identities, and cultures when the pervasive demands of settler colonialism are subverted.
With larger-than-life portraits Dayna Danger questions the line between empowerment and objectification by claiming space. Danger's current use of BDSM and beaded leather fetish masks depict the intersecting dynamics of sexuality, gender, and power in a consensual and feminist manner. In contrast to Danger's direct use of the body, Jeneen Frei Njootli often obfuscates the demands of a settler colonial gaze by creating indirect representations of her own body and performance works. By setting limits on what can be viewed, Frei Njootli refuses to be consumed beyond the limits of her consent and affirms her sovereignty.
Building on trust, embodied experience, and cultural knowledge, A Fine Pointed Belonging explores making new belongings, belonging with each other as a kin, and belonging to oneself as a sovereign subject.
Elise Boudreau Graham, If it Makes you Happy (It Can't Be That Bad), Good Sport Gallery, London ON. July 23rd to August 20th, 2016.
If It Makes You Happy is Maritime born, Montreal based artist Elise Boudreau Graham's first solo show. If It Makes You Happy explores the tensions of increasingly individualized brands of feminism and queries the ways in which the personal has become political. Aesthetically gesturing to the past, Boudreau Graham uses nostalgia to create a comfortable yet critical space which welcomes viewers to take a moment to relax and reflect on contemporary conditions of neoliberalism, internet activism, emotional labour, and commodified self-care.
Bad Sport a collection of feminist writing and artworks was released in conjunction with this exhibition and is accessible here.
Tough As Nails, Younger than Beyonce Gallery, Toronto. April 5th to 23rd, 2016.
Tough as Nails brings five emerging Toronto based artists together to flaunt the glamorous side of queer resistance. Seeking to complicate ideas of marginality, Tough as Nails explores the relationship between glamour and agency. Drawing on the long tradition of self-fashioned glamour as a practice of survival and world making for non-normative people, these five artists take up queer glamour as a defiant expression of marginalized identity.

The artists in Tough as Nails refuse, parody, challenge, and complicate conventional notions of what is considered alluring, and valuable. The artists exploit selfies, porn, fashion, interior decorating, and costuming as avenues to manipulate representation. Positioning queer as dodgy, erratic, and always in an unstable state of becoming, yet also as lived experience and historically defiant politic; queer glamour becomes a site of dynamic slippage, undermining, renegotiation, overstatement, and reinstatement. Tough as Nails investigates the idea of queer glamour as site of glittering transgression.
Curated By Robin Metcalfe in collaboration with Emily Davidson, Genevieve Flavelle, Beck Gilmer-Osborne, and Adan Myatt
This exhibition partially recreated the 1997, Queer Looking, Queer Acting: Lesbian and Gay Vernacular, originally presented at the Mount Saint Vincent University Art Gallery and curated by long-time gay activist, Robin Metcalfe (now Director/Curator of Saint Mary's University Art Gallery). The original exhibition comprised ephemeral, mostly print materials that served or reflected Queer activist struggles in Halifax between 1972 and 1997. These included print multiples, such as posters, handbills, T-shirts, and pins; video and film; performance, broadly defined to include drag shows and political demonstrations, and their props; and ways of marking, creating, and animating queer space within urban and architectural contexts. The restaged exhibition included a sampling of materials representing the current wave of Queer activism in Halifax. Emily Davidson, Beck Gilmer-Osborne and Genevieve Flavelle participated in both creating and selecting many of the materials from the present decade. The 144-page catalogue that accompanies OUT includes a complete reprint of the 1997 publication, with additional images and texts by Metcalfe, Gilmer-Osborne and Flavelle, and activist Rebecca Rose.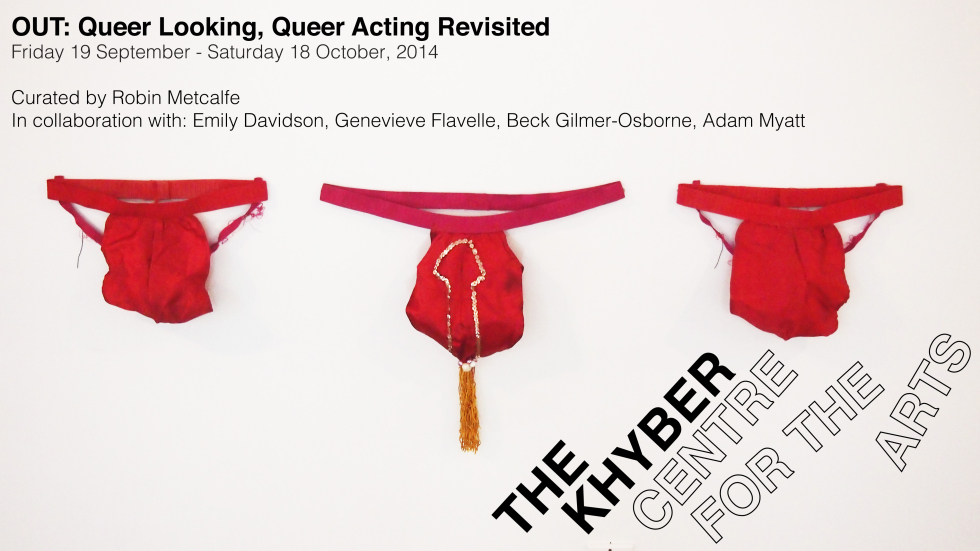 In collaboration with Beck Gilmer-Osborne, Emily Davidson, & the NSCAD Queer Collective.
The Turret Resurrection project brought the legendary Turret Club run by the Gay Alliance for Equality back to life for the Khyber's building's 125 anniversary. The space was recreated based on photographs of the original space and three events were held in the sprit of the Turret; a disco, a cabaret, and a community discussion.
You can read about the Turret here
Queer Gestures: Enacting Utopias at The Gender Pit. Anna Leonowens Gallery, Halifax NS, 2013.
Curated by Genevieve Flavelle in collaboration with the NSCAD Queer Collective
Queer Gestures: Enacting Utopias presented work by eight artists engaging with futurity, and utopias. Artists challenged accepted conceptions of queerness and envisioned radical and practical alternative futures. The exhibition was staged in a fictional spaced named the Gender Pit, which was envisioned as an autonomous student-run queer space on NSCAD campus. The Gender Pit was a temporary undertaking through which the DIY political possibilities of having a permanent queer student space were imagined. Centering a politics of resistance and queer imagination, the Gender Pit was a space that brings into conversation activism of the past, present and future. For the week of December 9th to 14th 2013 Gender Pit welcomed the public to a week of programming that include peer support sessions, karaoke, intergenerational community discussions, a poetry cafe, a dance party, punk rock aerobics and yoga classes.